Dining Out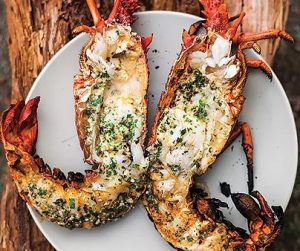 There is no shortage of delicious dining in St. Croix!
On the East end, check out Duggans for great seafood. They're famous for "whiskey lobster".
Castaways is a fun little place with great bar food and great live music. The $5 bar burger and $5 Pulled Pork sandwich are both great.
The Libation Station at Ziggy's Market has wonderful sandwiches, and Chef Aaron has special dinners here frequently that are not to be missed!
Blue Water Terrace is home to some great food, including Lori's famous Fried Chicken. You won't leave this place hungry, guaranteed, which is a shame because the desserts here are to die for!
Cheeseburgers in America's Paradise not only has great burgers, but also good salads and specials.
The Grill at the Divi and The Mermaid and Beauregards at the Buccaneer are fantastic spots to sit and watch the ocean and have a nice bite to eat – and then you can enjoy the beach for dessert!
The Deep End is also a beachfront bar/restaurant not to be missed, especially on Thursday nights for "Disco Bingo!" So popular and fun that reservations are required!
The town of Christiansted has a number of good restaurants, many of them new. On the Boardwalk, you have Nate's Boathouse, RumRunners, Shupes, Brew, and Sugar Mill Pizza.
Other great restaurants in town include Cafe Fresco, Galangal (fantastic Thai food), Savant, Too Chez, balter, 40 Strand, Zion Modern Kitchen, Toast, Dashi, Common Cents, and Bombay Club.
There are many others in Christiansted town, including vegan restaurants, cocktail lounges (Bes Cocktails) and local food – Kim's, Singhs, Ital in Paradise, and Harveys. Treat yourself to an Island Food Tour – you won't be disappointed or leave hungry! https://www.vifoodtours.com
On the North shore, there's a great little restaurant called AMA that's so close to the water you might just get wet! Rowdy Joes and Flyers (at Salt River Marina) are not to be missed.
Out west, check out the Lost Dog on King St. in Frederiksted for great pizza. It doesn't open till around 5:00 – but stays open late.
Other good spots in Frederiksted include Ciboné (The chef at Ciboné is passionate about locally sourced food and it is fresh, innovative and delicious!), Pollys at the Pier, The Tap Deck Bar. The Fred will be opening a restaurant soon, and Louie and Nacho's Beach Bar and SMOKE are located right next door to this fabulous Boutique hotel.
Turtle's Deli is a good spot for lunch, also located on the south end of Strand St. Further South, along the beach road, there's a nice restaurant/bar called the Beach Side Café located at Sand Castle Hotel. It has excellent food and one of the best beaches on the island.
Mid-island, you'll find La Reine Chicken Shack. It has THE best rotisserie chicken EVER! And the mahi and other dishes are to die for, as well. Un Amore is great spot for Italian, and Blues Barbeque is the spot for good Bar-b-que. For great Mexican food, Maria's Cantina, No Bones Cafe, The Bistro, Saigon Deli are good spots too, all located just east of Christiansted.
But wait, there's more! Download our Relocation Guide…