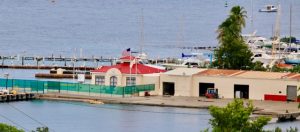 The Gallows Bay Marine Facility Welcome Center has finally opened after years of planning and work! Great news for our "small luxury yachtsmen" who want to visit St Croix!!
Built by GEC, LLC, the new center cost $1.5 million in bond funding obtained in 2014. The Costal Zone Management Commission approved the renovations in December 2016. In November 2017 all necessary permits were obtained from CZM and U.S. Army Corps of Engineers. By March, 2019 the project was underway, incorporating stricter building codes that went into effect in 2018.
Cargo activity is being shifted from Gallows Bay to the Gordon A. Finch Molasses Pier in Krause Lagoon, on St. Croix's south shore. The change should be complete in the near future, leaving the Gallows Bay facility open for the use of passenger and luxury vessels.
In remarks during the opening ceremony, V.I. Port Authority Executive Director Carlton Dowe said, "These smaller vessels that we cater to have a more affluent clientele. There is less impact on your infrastructure, so you benefit more when attracting these smaller vessels. Today I'm proud to see Gallows Bay shining like the jewel it is. I'm encouraged by this project because it helps realize the full potential of St. Croix."
Senator Novelle Francis Jr. added, "The rehabilitation of this building is a sign there are greater things ahead for Gallows Bay. The improvements and long-term plans for this facility will build on Gallows Bay's rich history, one that is carried by all the local families that have been the strong hold of this little village for generations."