Snorkel & Dive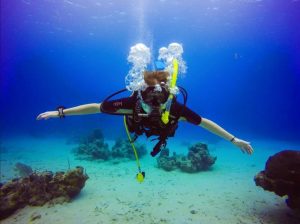 In addition to watching the sea life, snorkeling in the shallows here will result in great finds of shells, sea glass and chaney (small pieces of broken Danish pottery). There are good snorkeling spots ALL OVER this lovely island.
The West End has some great spots. Just south of Sandcastles on the Beach are perfect coral formations and overhangs – great spots for fish and lobsters to hang out – right off the beach!
There's actually an underwater snorkeling trail just off of the beach north of Frederiksted. And snorkeling off the Frederiksted pier, you may get lucky and see seahorses!
Out east, the water in front of Duggan's Reef restaurant is good for snorkeling. Or, keep heading east and hike to Jack's & Issac's Bay for some very private and wonderful snorkeling! The Divi Hotel beach is also nice for snorkeling – with all the amenities of a fine hotel (chairs, bar, etc.).
Finally – there's Buck Island! But for that – you need a boat! There's an underwater snorkeling trail there – and several outfitters take folks there daily. Big Beard is the most popular with frequent trips.
For more information, please download our Relocation Guide…