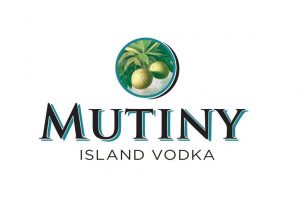 On Saturday, August 10, MUTINY Island Vodka, the world's first and only vodka distilled from breadfruit and the brainchild of award-winning Chef Todd Manley, held their Grand Opening at the newly-opened historic Sion Farm Distillery. This is the first vodka produced (distilled and bottled) on St. Croix and it is revolutionizing the vodka category and is set to shake up the cocktail culture.
Manley, originally from Virginia, where he was chef/owner of multiple restaurants, owns four popular restaurants on St. Croix. He has lived in the Virgin Islands since 2010. Manley's passion for his adopted home and his commitment to the finest, most authentic ingredients drove his vision for MUTINY Island Vodka, created in collaboration with gold-medal-winning distiller Chris Richeson. "St. Croix is a magical place where history, culture and incredible people come together to create a rich experience," said Manley. "MUTINY Island Vodka started as a way for us to give back to this amazing island and its people."
The event featured performances by Pressure Busspipe, Kurt Schindler, Quadrille Dancers, Adriana and Romanza, with special guests from Hawaii including Chef Sam Choy and Kap Tafiti. Food trucks, vendors, corn hole, and more were featured at the event. The company's mission is to create the world's first and finest Island Vodka distilled from breadfruit, made on St. Croix and exported around the globe; support local breadfruit food production; promote the use of breadfruit for nutrition in the USVI; stimulate the economy; reignite agriculture and be involved in and connect with the broader USVI community. Their goal is to bring the island pleasure of St. Croix-made Island Vodka to consumers around the globe while they do their part to bring back a lost agricultural component to St. Croix. The name MUTINY Island Vodka was inspired by the famous tale of the mutiny on the Royal Navy vessel HMS Bounty in 1789. It's known to most, thanks to numerous tales in literature and film, as "The Mutiny on The Bounty." While the story made famous the names of William Bligh and Fletcher Christian, breadfruit is the leading star in the drama, as it was breadfruit from Tahiti that the voyage was sent to bring back to the West Indies.