The Rainforest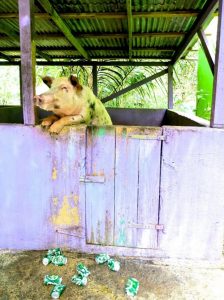 A trip here without going through the rainforest is just not complete, and a trip through the rainforest without a stop at the Domino Club is not complete either. Norma is the owner – she's a legend here – and a wonderful person. Have a johnny cake there, or some Roti, or a Hamburger if you happen to be there on the right day (the menu is limited and rotates, but everything is good!). Be sure and sample a "mama wanna" – a local (made by Norma) "shot" that is to be sipped and chased with a beer of your choosing. Careful, though! They are dangerous! And of course, be sure you feed the pigs. Don't ask me why – just do it. You won't be sorry. It'll cost you a buck or two – but hey – you'll get some good photos and a lot of laughs out of it!
The rainforest is home to the "Ridge to Reef" sustainable farm, definitely worth exploring.
Finally, there is Mt. Victory Camp, an Eco-Lodge nestled in the Northwest Hills of St. Croix. Their homestead is designed to enhance the beauty of the natural surroundings, capture the cool breezes, and provide a peaceful setting for people to get closer to nature. They strive to make the natural and cultural wonders of island life accessible to their guests by providing comfortable living close to nature. Low-impact, sustainable living is their goal. There, you'll live overlooking the forest trees on a platform habitat made from those same trees, hike along breezy ridges, explore via mountain bike, discover ocean trails, horseback through cattle country, or just look up from your hammock at the fruit ripening over your head!
For more information, please download our Relocation Guide…