The Rainforest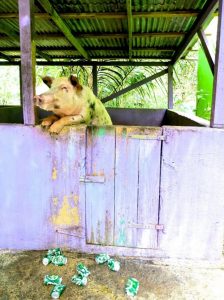 A trip here without going through the rainforest is just not complete, and a trip through the rainforest without a stop at the Domino Club is not complete either. Norma is the owner – she's a legend here – and a wonderful person. Have a johnny cake there, or some Roti, or a Hamburger if you happen to be there on the right day (the menu is limited and rotates, but everything is good!). Be sure and sample a "mama wanna" – a local (made by Norma) "shot" that is to be sipped and chased with a beer of your choosing. Careful, though! They are dangerous! And of course, be sure you feed the pigs. Don't ask me why – just do it. You won't be sorry. It'll cost you a buck or two – but hey – you'll get some good photos and a lot of laughs out of it!
There's also a "mini zoo" in the rainforest. There you can sample lots of local fruits and homemade products, including all natural sugar-free smoothies. YUM!
Finally, the rainforest is home to the "Ridge to Reef" sustainable farm, and Mt. Victory camp – both are places worth exploring.
For more information, please download our Relocation Guide…