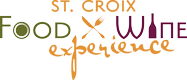 In honor of our 28th Anniversary, ticket sales for the 2019 St. Croix Food & Wine Experience are now OPEN!
The events will be held April 4 – 7, 2019, and will include all of the popular events: the fun-loving Sunset BBQ (April 5th), the community-centric Gourmet Vintner Dinner (April 7th), the intimate bond @ balter (April 4th) and Cork & Fork Dinner (April 5th) – and of course, our premier Wine in the Warehouse event (April 6th)!
So join us in 2019 for a perfect weekend of food, fun, and philanthropy as we celebrate the people, the land, the culture, and the incredible food of St. Croix!
A special 28 percent discount will be given to teachers and first responders for two of the most community-centric events- Sunset BBQ and Wine in the Warehouse. The discount tickets for teachers and first responders will extend through October 8, 2018 and can only be purchased at the St. Croix Foundation headquarters on the Market Square in Christiansted.