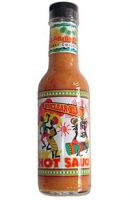 Who wouldn't love a little something from the islands for Christmas tucked away in their stocking? Some hot sauce perhaps? A colorful calendar? Books about St Croix? Unique and handmade island Jewelry? Our friends at www.vitraders.com have a nice selection of Island-themed gifts. Check them out!
Or if you are shopping for those "hard to buy for" people – what about a nice donation to a worthy cause in their name? Our animal welfare center (http://www.stcroixawc.org) and Botanical Gardens (http://www.sgvbg.org) were hit VERY hard and really need help. Or consider "adopting a family" here – and sending a care package. There are still many people in dire need here. Find out more: http://www.adoptafamilyusvi.com. Or help the kids at the Queen Louise Home for Children have a merrier Christmas – https://lssvi.org/what-we-do/care-for-children/queen-louise-cottage-a-b/.
As a Realtor® and Broker here in St Croix, I've supported the St Croix Foundation since the beginning of my career, by donating to them on behalf of all my customers for the year (by buying my customers a "membership" into the organization). The Foundation contributes so much to our island community! This year will be no exception – so if you purchased property through our firm, we are contributing on your behalf! Consider donating to them as well: http://www.stxfoundation.org.