Snorkel & Dive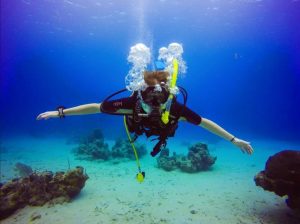 In addition to watching the sea life, snorkeling in the shallows here will result in great finds of shells, sea glass and chaney (small pieces of broken Danish pottery). There are good snorkeling spots ALL OVER this lovely island.
Just south of Sandcastles on the Beach are perfect coral formations and overhangs – great spots for fish and lobsters to hang out – right off the beach!
There's actually an underwater snorkeling trail on the West end just off of the beach just north of town. And snorkeling off the Frederiksted pier, you may get lucky and see seahorses! That's a definite "seahorse hangout!"
Going further north, other good snorkeling spots include the beach off of Butler Bay (you'll see a sign and some old stone gates – just after that is a nice beach- park there to snorkel – but don't leave valuables in your car!).
Take along one of those waterproof containers for your keys and wallet – if you don't have one – you can pick one up at N2 the Blue. Nothing worse than having a perfect beach and snorkeling day ruined by a few punks who get their jollies by breaking into vehicles and stealing your stuff.
Along the North shore, Cane Bay is a great spot for snorkeling and diving. Salt River Park (the beach side) has some interesting coral formations and has wonderful snorkeling. To get there, continue down North shore road and turn left at the marina. That road dead-ends at the beach – take security precautions here as well.
On the East end of the island, there's also some great snorkeling. Tamarind Reef is really nice. Past the Buccaneer heading east, turn left into Green Cay. Follow signs for the Deep End Bar and go to the beach to the right of the bar. They have an attendant and you can rent chairs, umbrellas, the whole works. Fewer worries about thievery here, and truly world-class snorkeling. It's a bit difficult to get into the water here – but worth it.
Out east, the water in front of Duggan's Reef restaurant is good for snorkeling.
On the western side of the island, along the north shore, is famous Cane bay beach, home to fabulous diving and snorkeling. "The Wall" is here, which drops to around 3,200 feet within swimming distance from shore. Great for snorkelers and divers alike!
Jack & Issac's Bay is a fabulous spot for snorkeling (also off of Grapetree Bay – but you have to hike to it). It requires a significant hike – but it's well worth it.
For more information, please download our Relocation Guide…