The Rainforest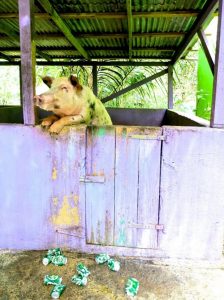 trip here without going through the rainforest is just not complete, and a trip through the rainforest without a stop at the Domino Club is not complete either. Have a johnnycake there, or some Roti, or a Hamburger if you're there on the right day. Chicken and fish are nearly always on the menu and the food is wonderful. Be sure and sample a "mama wanna" – a local "shot" that is to be sipped and chased with a beer of your choosing. Careful, though! They are dangerous! And of course, be sure you feed the pigs. Don't ask why – just do it. You won't be sorry. It'll cost you a buck or two – but hey – you'll get some good photos and a lot of laughs out of it!
St Croix's newest adventure is in the air above the rainforest! Don't miss the newly opened Carambola Zip Line which spans 2473 feet across the rainforest, and includes a 205 foot vertical drop!! https://www.carambolazipline.com
The rainforest is also home to the "Ridge to Reef" sustainable farm – definitely worth exploring.
For more information, please download our Relocation Guide…